Happy 2018 Glams! I'm so excited to be back and providing you with new content! I have so many new things and posts planned for you guys and can't wait to share it with you all. I really want to focus on giving you ladies content you want to see and really help you all tackle any makeup and beauty problems you may be having. I love applying and playing with makeup, but I equally love teaching and showing you all that with some practice, guidance and a little instruction you can achieve whatever beauty goals you may have. With that being said I am so excited for this year and can't wait to share and have some fun with you guys.
As usual, if you have any makeup or beauty questions, comments, or post ideas be sure to leave them in the comments below!
Now that that's out of the way let's get to today's post!
So today I wanted to talk to you guys about 5 products that currently keep me totally slay ready daily. This year I really want to make it a point to really use products that work for me and help cut my beauty regime and makeup application time down. We've all got so much going on and these 5 products really really help reduce my time down when I'm applying my makeup and help get me out of the door much quicker.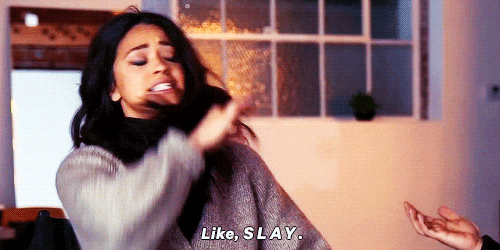 1.Makeup Forever Step One Skin Equalizer Primer
If you've been on my blog before then, you've probably heard me talk about this primer before. Makeup Forever's Step One Primer has been my go-to primer for years. This primer always manages to leave my oily skin nice and matte and ready for makeup application literally within a few seconds.
2. Jordana Fabubrow Brow Pencil
Another true ride-or-die product that I swear by is my Jordana Fabubrow Brow Pencil. This pencil I've also talked about quite a bit on my blog, and it's managed to remain a favorite for years. The pencil's waxy texture makes blending and shaping such a breeze, and their color selection is also outstanding.
3.Eco Tools Beauty Sponge
I've been giving my other beauty sponges a rest lately and have been really loving my Eco Tools beauty sponge. I love using this sponge to blend in my concealer. It's nice and bouncy and blends in product just as good as other popular beauty sponges.
4.Makeup Revolution Shimmer Brick
Makeup Revolution has really stepped up its game when it's come to pushing out new products. I love that with this shimmer brick a little bit goes such a long, long way. This shimmer brick gives the perfect amount of highlight, and it's multi-functional-I love to use some of the shades on my eyes, and it works as a great brow bone and body highlight too.
5. Smashbox Always On Matte Liquid Lipstick
A matte liquid lippie has been my go-to for the past year, and Smashbox's Always On Matte Liquid Lipsticks has definitely been my favorite. I love how pigmented it is, and it doesn't get annoyingly crumbly if you reapply. I will say though that with any liquid lipstick, be sure to apply a good moisturizer to the lips to avoid extreme over drying.
What's your go-to products that keep you slay-ready?
~Note: This post is not sponsored. All thoughts, opinions and products are my own!


Let's Be Friends:
www.sassyandclassy.net