As a gal with oily skin, I'm always on the hunt to try and find new products and ways to keep my skin matte and luminous throughout the day. If you too have oily skin, you already know how frustrating it can be to apply a full face of makeup in the morning only to wind up looking like a shiny, greasy, sticky mess within an hour or two.
After scouring the beauty aisles, blogs, and social media for quick fixes, I've managed to pick up some tips on how to control oil throughout the day and keep your makeup and face intact when you're on the go.
Below are 6 of the latest tips I swear by that help keep me nice and matte while I'm out and about and on the go. Take a look and let me know what some of your tips are on how you stay matte o.t.g.


💗
Prep beforehand! Making sure my face is oil-free BEFORE I even begin to apply my makeup is incredibly important, so before I even start I make sure that I am PRIMING my face with the right primers first. Mattifying primers can really work wonders and really help keep your skin from getting greasy prematurely. Makeup Forever's Step 1 Primer really does such a great job at priming my skin and keeping me matte. A more budget-friendly alternative I find works really well is the Kiss Professional Pro Touch Mattifying Primer. I also like to spray the ELF Oil-Control Primer Mist as an additive step to ensure my face is 100 percent matte.
💗 As for foundation and powders, I make sure to use products that are oil-free and really help with controlling oil. During the summer, I love to use the
L'oreal Pro Matte Foundation
and set my face with the
Maybelline Fit Me! Loose Powder
. It really helps keep me matte throughout the day & I find myself not having to blot or apply powder as much.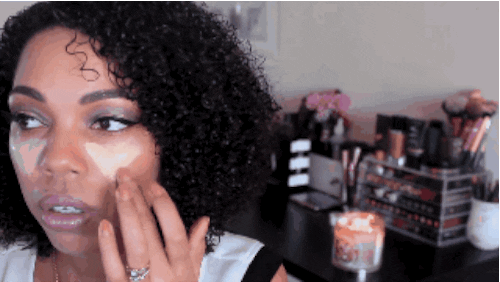 💗Another huge tip to staying matte is baking!! If I know I'm gonna be out and about for a long period of time and don't have time to touch up my face, a great tip I learned (especially if you're an oily girl) is to apply a bit of loose powder all over your face to make sure your face is nice and dry. That extra barrier will help prevent oil from seeping through to the surface quicker. Also, baking after you've applied your liquid and cream products help set it better and decreases the chances of any creasing.
Let's Be Friends:
www.sassyandclassy.net
💗Come with the right arsenal. Blotting papers and setting powders literally can save you from turning into an oily, wet and greasy mess so walking with them(especially during the warmer months) are a MUST for me.
NYX
,
Clean & Clear
and
ELF
make some really great blotting papers that soak up excess oil really nicely, while
L'oreal
and
Maybelline
make some really good compact powders that are great for touch-ups.
💗Avoid sweating and try and stay as cool as possible. Participating in activities where you're likely to sweat more or get wet can really affect your makeup so if you're looking to stay matte(and keep your makeup intact), avoid doing things that could potentially mess it all up. If you are out in the hot sun though, staying hydrated with water and a face mist will help cool down your body so you're less likely to sweat. Bringing a handheld fan also helps keep you cool(and matte) as well.